Company Profile
Since 1987, Frontline Campervans has been serving customers throughout Australia by providing top quality, innovative conversions.  We pride ourselves in producing unique conversion designs that are functional, answer the needs and desires of our customers, and retain maximum drivability.
Our pursuit of innovative designs that blend beauty and superb functionality have allowed us to offer unique layouts not found with other conversions.  We continually search for new ways to improve our products and enhance our customer experience.
We regularly pursue feedback from our customers, incorporating their suggestions whenever possible, so our conversions closely match the expectations and needs of the people who use and enjoy our vehicles.
We want our conversion to be your masterpiece of adventure, where wonderful memories are created and dreams come alive.
Resale – Range- reputation- Warranty- Safety ADR
Factory and Staff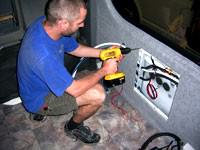 The Frontline factory is the hub of our manufacturing activity with an efficiency and quality of workmanship that is second to none.  Our staff are an energetic, pro-active team of workers we happily reward with social get-togethers every 3 to 4 months, such as a dinner or a trip away. We believe it is important to reward our team for their efforts. The strategy is simple, look after your staff and they will build a quality product for the client. We regularly run apprenticeship programs, so we can teach the new generation about this exciting industry.
Safety
Frontline considers safety very important.
Every new campervan we build has the Australian Compliance plate approval – this is standard procedure for all Frontline conversions.  If you are comparing us to other manufacturers, look for the second Stage approval.  If it doesn't have it, don't buy it.  Our approval is full volume, which is full pull testing on seating and seat belts, an important approval offering piece of mind.
Reputation
We are very proud of our Frontline reputation, which comes from years of having the utmost respect for the product, our people, and our customers – and from just doing the right thing.
It's a bit like buying anything, until you own it and try it, you don't really know what you've got. Mark my words, the clients we have moving around this country sing our praises every day and that makes us feel great. It's not rare at all to hear comments like, "I spoke to someone in Broome with a Frontline – and they love it!"
Resale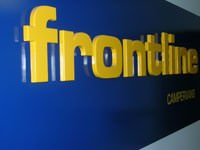 Frontline products have outstanding resale value.
Although most customers hold onto their van for 5 to 10 years, it's great to know that when it's time to sell, the recognition of Frontline's quality will ensure a good resale. Frontline's first-sale affordable pricing adds to your assurance of a good resale value, particularly against high priced brands in competition.
Range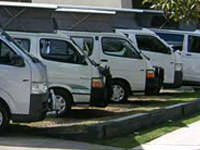 Frontline offers the largest range of approved designs in the VW Transporter and Toyota Hiace in the country. Take a look through the web site or our brochures and we are sure you will find a design that fits your needs.
Company Owners
The owners of Frontline, Peter Farrugia and Jeffery Verhagen, started their business back in 1987 and are still involved in the daily running of the business.
Peter deals with sales and administration, but has a passion for building and using the product. A cabinet maker by trade, Peter enjoys the design process, especially the release of new designs and ideas.
In his leisure time, Peter chases his three kids around at Nippers, rugby, sailing, indoor soccer, netball, touch footy, and softball – quite often performing as manager or coach. He enjoys sailing, bike riding, surfing, fishing, skiing – and the list goes on. An on-target individual, Peter believes in keeping focused on a task, doing it well and with honesty, plus having fun while completing it.
Jeff, as Manager of the workshop,  demands high quality workmanship from the Frontline team and of himself.  With over 30 years of producing Campervans under his belt, he has a wealth of experience not often found.  Jeff loves seeing products evolve from start to finish, steering production down a very efficient path, and personally checking each product before it leaves the factory.
He has a true passion for the leisure industry and loves the outdoors, spending his leisure time camping, fishing, boating, and surfing. Jeff's eagle eye for detail and cleverness with design and function are invaluable assets.
-->